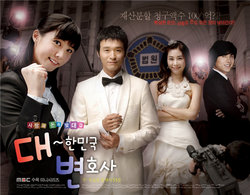 Title: Lawyers of Korea
Also Known As: South Korean Lawyers / Lawyers of Korea / Great ~ Han Min Gook Attorney
Broadcast Date: July, 2008
English Subs: Yes
Total Episodes: 16
Status: Complete
Summary/Reviews:

Lee Ae Ri and Han Min Gook are a couple who are in the process of getting their divorce. Han Min Gook is a wealthy man who maintains a million dollar fortune and his top actress wife, Ae Ri, files a 100 billion won lawsuit against him. Byun Hyuk is the lawyer that represents Ae Ri in her divorce suit against her husband while Woo Lee Kyung is the new lawyer who represents Min Gook. Though they don't get along with each other in the beginning because they each represent other clients, Byun Hyuk and Lee Kyung slowly fall for each other.